Due to the COVID-19 pandemic the HDKI Denmark Summer Camp is cancelled.
All info below is no longer valid. We are working on the 2021 replacement – and will keep this page active till the 2021 data is ready.
HDKI Summer Camp 2020 – Info Page **** THIS EVENT IS CANCELLED ***
Find below the original information for the Odder Karate and HDKI Summer Camp 2020 – FOR YOUR INFO ONLY – the event is cancelled due to the COVID-19 pandemic
Main Info Pack: Summer Camp 2020 Invite incl. detailed information:
Additional Documents: Arriving from Abroad:
Additional Documents: Things to See and Do:
Additional Documents: Flyer (pin this at the bulletin board of your Dojo):
Online Registration Page:
https://odder-karate.dk/hdki-summer-camp-2020-online-registration-page-english/
SUMMER CAMP 2020 DETAILS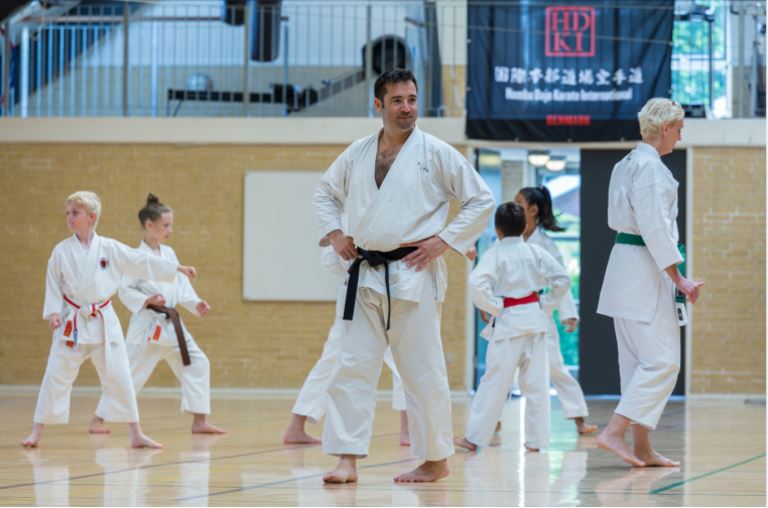 WHEN:
Thursday July 2nd, 2020 at 1 PM (registration) till Sunday July 5th, 2020 around noon (end of calendar week 27)
BASIC PROGRAM:
Training 2x Thursday, 3x Friday, 3x Saturday, 1x Sunday + other activities in the campus area
All meals and lodgings included (in either 2, 3 or 4-persons room)
(Please note: bunk beds with no beddings available – please bring this yourself)
Detailed schedule to follow when we get closer!
WHERE:
Hou Maritime Idrætsefterskole (HMI),
Villavej 13-17, Hou, DK-8300 Odder, www.hmi.dk
PRICES:
Odder Karate / HDKI members (incl. international members):
Adults: 1.550,- kr (~211 EUR) — Kids: 1.350,- kr (~184 EUR) (under 15 years)
Not HKDI members:
Adults: 1.750,- kr (~238 EUR) — Kids: 1.550,- kr (~211 EUR) (under 15 years)
The prices above is inclusive all meals and lodging but exclusive optional transportation (200,00 kr. / ~27 EUR adder) to/from the venue (see more later) and optional Camp T-Shirt (150,00 kr. / ~20 EUR adder). Both transportation and a T-Shirt can be pre-ordered and later paid via our online registration form. Prices for extra family members (not training karate) – see the "Special Demands" section below.
DEADLINE FOR SIGN UP:

Please register your participation by latest JUNE 13th 2020.
Please note that there will be limited spaces ie. first come, first served.

A certain amount of spaces will be available for non HDKI members – when filled a waiting list will be set up
CANCELLATION:
Till June 1st 2020 cancellations will be accepted – and paid amount will be refunded minus an admin fee of 150,00 kr. (~20 EUR)
After this day the registration is final and no refunds will be done.
SPECIAL DEMANDS:
If you have special request like participation without training (e.g. for parents/family), participation of single days (with and without accommodation) etc then please write us an e-mail beforehand and ask for spaces available. If all is OK then you can also sign up and find prices for such specials within the online registration form.
For other requests (e.g. food allergies, accommodation inputs for roommates, travel comments) – such can be mentioned within the online registration form and for esp. the food allergies we will pass this info to the facility (no guarantees can be made). It should be noted that food alternatives for participants with Lactose Intolerance and Gluten Allergies should be better available in 2020 vs 2019 – but for sure only if mentioned beforehand.
Invitation Letter for Visa applications we will NOT do, sorry.
SIGN-UP:
ONLINE at https://odder-karate.dk/hdki-summer-camp-2020-online-registration-page-english/
PAYMENT:
ONLINE (by Credit Card): When registered (above) and when your data have been validated vs. available spaces you will receive a Payment link from us (to be used for Online Payment via Credit Card). When that is paid you are fully registered.
INSTRUCTORS: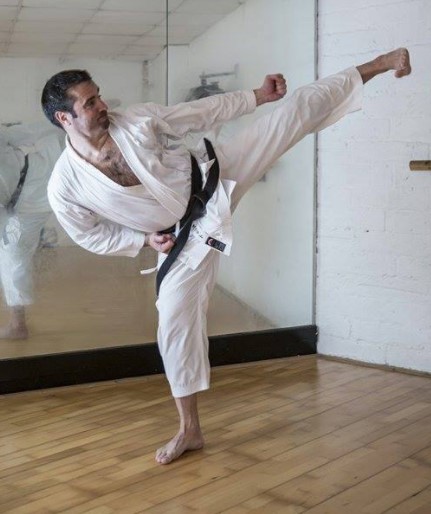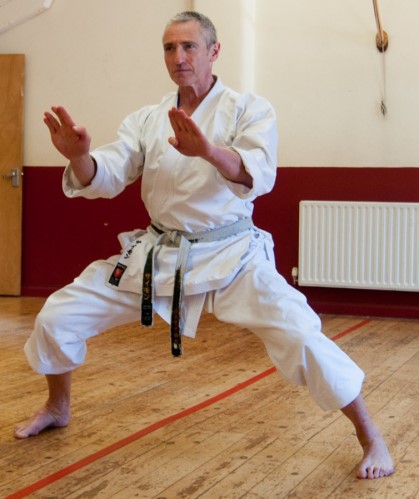 ARRIVING FROM ABROAD:
Billund Airport (BLL) and Aarhus Airport (AAR) (see below) are both located approx. 1 hour by car from the venue.
Please also check out the "Arriving from abroad" document for details on the logistics.
IN GENERAL FOR ALL WHICH WILL ARRIVE FROM ABROAD BY PLANE:
If you share your planned flight schedule with us well in advance we will do our best to help you in organizing the logistics to/from the camp. Joint transportation will for sure be arranged for ONE Ryan Air arrival/departure at the AAR airport – besides that it cannot be guaranteed that we will do the organization. A fee of 200,00 kr. (~27€) for the joint transportation will apply (please reserve your space in the ONLINE REGISTRATION). When you sign up let us know your flight details and transportation need (also if it is not the Ryanair at AAR) – and some weeks before the camp we will share a detailed transport plan with all arriving from abroad.
THINGS TO DO AND SEE IN THE AREA:
Please check out the "Things to See and Do" document for inspiration. Mostly for people not doing karate or staying longer though…
VARIOUS INFO:
Voltage: 220V AC, 60Hz – Central European plug (like the Germans use… and Swedes…and Norwegians… and – well, almost all EU countries use). In other words – remember a converter plug if you come from UK or US.
Currency: Danish Kroner (DKK). All major Credit Cards are accepted in most stores, taxi's etc – but it seems that almost all requires the CHIP versions (or wireless) – so if you want to be sure – have such.
Language: Danish – or let's call it Danglish … as we inherit so many words from English the language is somehow floating…
Climate: Out of control. Can be warm and nice in July e.g. 20-25⁰C (2018, 2019, 2020) – or cold/windy and raining e.g. 15⁰C-20⁰C (2017). Prepare for the worst – and it will be good.
Border control: Remember your valid passports – please.
Health: Nearest hospital and emergency room is ~30mins from the camp. We do not plan to use it – but just in case.

CAMP AREA: The camp is held at a boarding school (Danish 1-year type) with a lot of sports facilities at hand. It is very close (20 meters) to a beach where morning training and swimming is an option (but weather dependent). Also nearby is a public indoor swimming facility, a harbor area (with 2 small ferries going to two small islands nearby) and a grocery store. Besides that – there pretty much nothing – which means no "distractions" and you can be mindful on your next "Karate Adventure".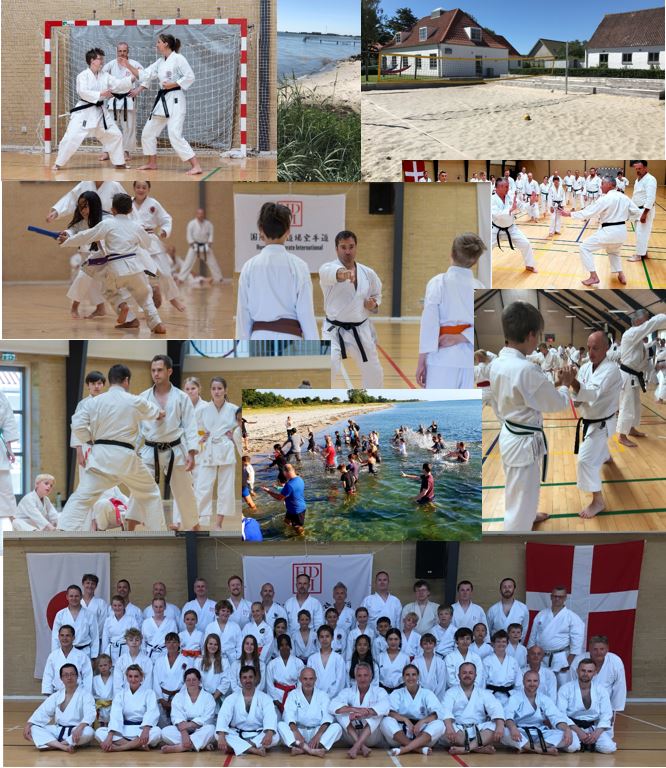 For more information – or if you have some questions – please contact us at: hdki.denmark@gmail.com
or at our Facebook page https://www.facebook.com/HDKI.DK/


OSU – and CU in Denmark!!